Ba-bum-ba-bum-ba-bum-bum SALE! Chris Sale! (cbssports.com)
Fantasy Funkhouser will review all things Fantasy Baseball. After all, life is a small sample size.
This time last year, there were a lot of questions and concerns about Chris Sale. He was a young pitcher with a questionable delivery. He had a great 2012, but his workload increased by 121 innings. There was a brief stretch where Sale was inexplicably shut down by the White Sox due to some forearm tightness, and although he came back from that to finish strong, the 2013 fantasy owner was weary.
What Sale had in store for his first year as an uninhibited starter was a treat. He surpassed 200 IP to go along with an increased K-rate and lower walk rate. His ERA barely nudged up a bit, but his FIP and xFIP were both lower than 2012. He tied for 8th in WAR at 5.1 with Cliff Lee. What 2013 was for Chris Sale wasn't the comfort of knowing this kid could put together two strong seasons back to back even with his funky mechanics, but rather the emergence of a fantasy star. Truly, no one pitches like Chris Sale pitches. He's an inverted W, left-handed, spinning slinger of a pitcher who utilizes three dominant pitches and is bringing along a two-seam fastball.
*fangraphs.com
I love these types of .gifs because it shows me what I want to see from a starter. At least 3 strong pitches with a forth on the way. All at different eye levels and velocities. Factor that in with Sale's pitching motion, and if you're a left handed batter, you might as well leave your batting gloves at home. Well, I guess unless you want to get hit by a pitch.
| | | | | | | | | | | | | | | | | |
| --- | --- | --- | --- | --- | --- | --- | --- | --- | --- | --- | --- | --- | --- | --- | --- | --- |
| Season | Split | IP | TBF | H | 2B | 3B | R | ER | HR | BB | HBP | SO | AVG | OBP | SLG | wOBA |
| 2013 | vs L | 44.2 | 163 | 20 | 3 | 0 | 7 | 6 | 0 | 8 | 5 | 48 | 0.133 | 0.205 | 0.155 | 0.174 |
While there are undoubtedly long-term health risks tied to Sale, it seems like at this point in his career, his body can take what his throwing motion is dishing out. I strongly considered making Sale my #2 ranked SP overall, but health was a factor along with the fact that hey, bumping him up to #4 isn't too shabby either.
This round is dominated by the starters. A byproduct of offense being heavily influenced in the first couple of rounds. Moving forward there will be a better mix of position players to go with the starters and eventually closers.
While Sale is my #4 starter, I still couldn't put him above
King Felix
. Per
fantasypros.com
, Hernandez is going 36 overall, which is fair considering I have him ranked higher than most. Overall, I just feel like Hernandez has this cloud hovering over him. His fastball velocity dropped, he might start having arm troubles, ooooooh! What he really is, is a pitcher entering his pitching prime. He's not lighting up radar guns, but his control is excellent and he has a wipe out change up. Pitch F/x has him checking in with 6 different pitches all smashed into 11 mph difference. Does this make him more hittable because there's not enough of a differential in speeds between those pitches, or wholly unhittable because if you're the batter you have a possibility of 6 pitches coming at you that all look the same that can all be located all over the plate? Don't overlook Felix.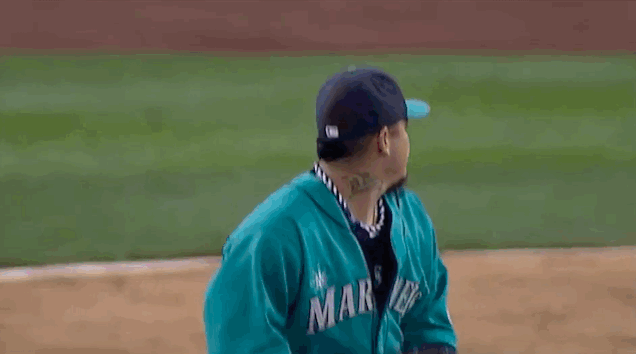 Just to wrap up the pitcher talk for now ... this is the year. The year I finally get to draft
Stephen Strasburg
! Ever since he made his debut, in redraft leagues I refused to take him due to his inflated price and, frankly, overrated standing in fantasy ranks. But this year, my friends, is the year. Sure he wasn't completely healthy last year, but he had some bone chips cleaned up and is ready and raring to go. He is looking to eclipse over 200 innings this season, and with only 8 wins and sub 200-Ks this might be the only year you can get Strasburg at a reasonable price. A sub 3 ERA and 200 Ks are easily attainable for a guy with Strasburg's pedigree, especially in the NL East. He's even
working on a slider
. Eh, well it still needs a little work, and due to his on-going elbow concerns probably won't be utilized much if at all this year, but he's going to get better. The last remaining knock on him making a run into a top 2 pitchers is his innings count. Yes, there's a massive difference between pitchers that can go 220 innings and 202 innings.
Let's talk about the elephant in the room,
Alex Rios
. The bane of many fantasy owners existence has quietly started becoming a darn good fantasy player. After many up and down years, when we look back at the 33-year-old we see he has put together a couple solid years in a row, and he is now comfortably embedded in the Texas Rangers' lineup. He is a 20/20 threat and a 20/35 threat if you're feeling frisky. The biggest issues are if you can trust Rios to perform, and if he is batting 6th, that's going to have a negative effect on many of his stats. He won't be reaching 40 steals and 90 runs with Adrian Beltre and Prince Fielder clogging up the base paths. I'm ready to proceed with caution on Rios simply because the power and speed combo is too enticing.
My thoughts on
Freeman
here
. #TeamHeyward
Those two outfielders I have listed are two intriguing players. With
Bautista
, I think he's got one more season in the sun in him. Hopefully a year removed from wrist problems will help him stay on the field. His ISO could tick back up towards the high .200s putting him in range of 40 HR if all goes well.
As for
Justin Upton
, ugh, where do I start? The guy is an anomaly. No one knows if it's effort, injuries, or perhaps a grossly overrated idea of what kind of talent he actually has, but at this point Upton is ranked #35 on hope. He is still only 26, so it's silly to write him off, but at the same time if he doesn't start playing more consistent, staying healthy, and hitting the ball hard it's time to start worrying. Most concerning for Upton last year was the massive increase in strikeouts. Basically pitchers were coming at Upton early and often. Throwing first pitch strikes more often and throwing pitches in the strike zone consistently. Upton's contact rate took a nose dive, and that's where the book on Upton is currently written. Get behind on him or make a mistake, he'll take it a long way. But if you can get ahead and make him uncomfortable in the batter's box, then he's not likely to make you pay. Personally, I'd like to see Upton just make better contact. He's walking a bit more in spring training, but I see no indication of his ability to drive the ball. He still has that MVP form in there somewhere. He flashed it in April last year. Fantasy owners have begun to lose patience, and they aren't wrong in doing so, but let's hope this is Upton's year.
| | | | | |
| --- | --- | --- | --- | --- |
| RANK | PLAYER NAME | POS | POS RANK | TEAM |
| 25 | Felix Hernandez | SP | 3 | SEA |
| 26 | Chris Sale | SP | 4 | CHI |
| 27 | Ian Desmond | SS | 3 | WAS |
| 28 | Stephen Strasburg | SP | 5 | WAS |
| 29 | Alex Rios | OF | 9 | TEX |
| 30 | Freddie Freeman | 1B | 5 | ATL |
| 31 | Adam Wainwright | SP | 6 | STL |
| 32 | Cliff Lee | SP | 7 | PHI |
| 33 | Jose Reyes | SS | 4 | TOR |
| 34 | Jose Bautista | OF | 10 | TOR |
| 35 | Justin Upton | OF | 11 | ATL |
| 36 | David Price | SP | 8 | TB |
On Deck: Giancarlo Stanton, Craig Kimbrel, Yasiel Puig

OVERALL RANKINGS THUS FAR
No changes this week. My rankings so far are holding pretty steady. Of course, there have been a slew of worrisome injuries that haven't shown themselves yet in the form of
Cole Hamels
and
Kris Medlen
.
| | | | | | |
| --- | --- | --- | --- | --- | --- |
| RANK | PLAYER NAME | POS | POS RANK | TEAM | CHANGE |
| 1 | Miguel Cabrera | 3B | 1 | DET | |
| 2 | Mike Trout | OF | 1 | LAA | |
| 3 | Paul Goldschmidt | 1B | 1 | ARZ | |
| 4 | Andrew McCutchen | OF | 2 | PIT | |
| 5 | Ryan Braun | OF | 3 | MIL | |
| 6 | Carlos Gonzalez | OF | 4 | COL | |
| 7 | Clayton Kershaw | SP | 1 | LAD | |
| 8 | Hanley Ramirez | SS | 1 | LAD | |
| 9 | Edwin Encarnacion | 3B | 2 | BAL | |
| 10 | Chris Davis | 1B | 3 | TOR | |
| 11 | Jacoby Ellsbury | OF | 5 | NYY | |
| 12 | Robinson Cano | 2B | 1 | SEA | |
| 13 | Bryce Harper | OF | 6 | WAS | |
| 14 | Adrian Beltre | 3B | 3 | TEX | |
| 15 | Joey Votto | 1B | 3 | CIN | |
| 16 | Adam Jones | OF | 7 | BAL | |
| 17 | Carlos Gomez | OF | 8 | MIL | |
| 18 | Troy Tulowitzki | SS | 2 | COL | |
| 19 | Prince Fielder | 1B | 4 | TEX | |
| 20 | Jason Kipnis | 2B | 2 | CLE | |
| 21 | David Wright | 3B | 4 | NYM | |
| 22 | Yu Darvish | SP | 2 | TEX | |
| 23 | Evan Longoria | 3B | 5 | TB | |
| 24 | Dustin Pedroia | 2B | 3 | BOS | |
| 25 | Felix Hernandez | SP | 3 | SEA | |
| 26 | Chris Sale | SP | 4 | CHI | |
| 27 | Ian Desmond | SS | 3 | WAS | |
| 28 | Stephen Strasburg | SP | 5 | WAS | |
| 29 | Alex Rios | OF | 9 | TEX | |
| 30 | Freddie Freeman | 1B | 5 | ATL | |
| 31 | Adam Wainwright | SP | 6 | STL | |
| 32 | Cliff Lee | SP | 7 | PHI | |
| 33 | Jose Reyes | SS | 4 | TOR | |
| 34 | Jose Bautista | OF | 10 | TOR | |
| 35 | Justin Upton | OF | 11 | ATL | |
| 36 | David Price | SP | 8 | TB | |